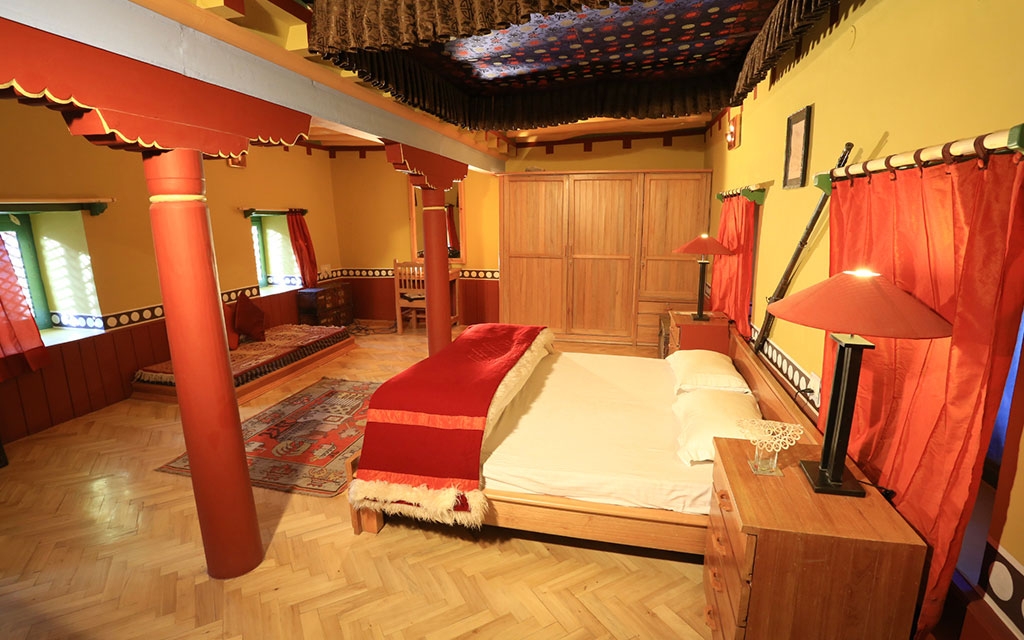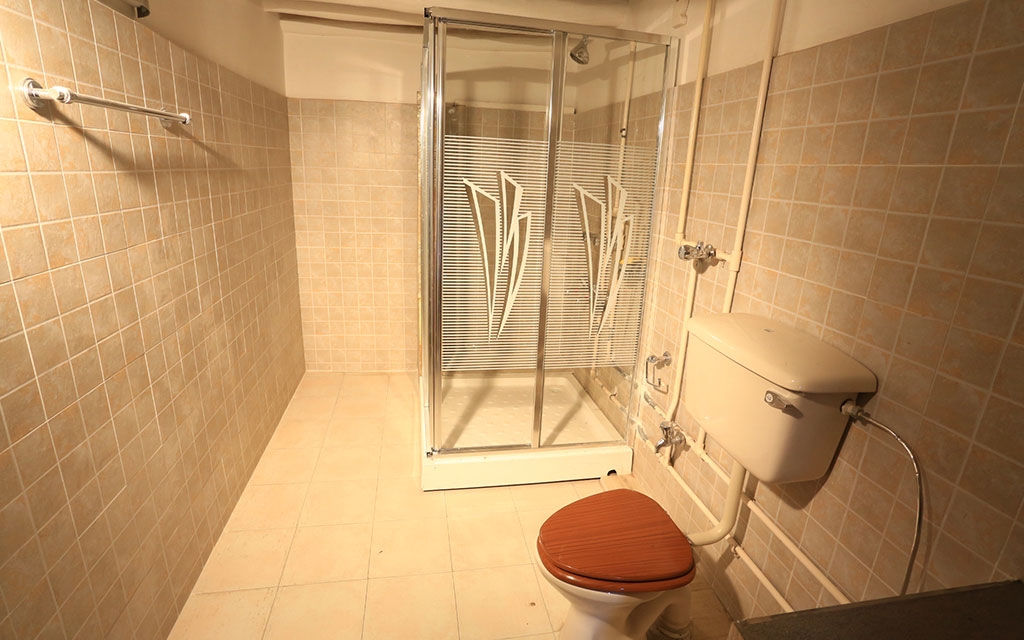 ---
The suite-i
(zodh-khang):
The Classic Suite-I with grand comfortable space for a family where elegance meet contemporary once was part of history. The space was used as a pantry for large utensils and copper pots used for serving changg (barley based alcoholic beverage), urns, stone vessels of grit-stone for cooking and room to groceries.
'Zodh-Khang' newly renovated Suite-I captures the feel of classic, grand accommodation, with the low foot ceilings, small windows and expansive space, custom contemporary elements exclusively designed for the palace and for your comfort. The room designed with classy, minimalistic and superior amenities with specific focus for your comfort and convenience offers you lot more of imaginative experience of history. The quiet and comforting luxurious space is a perfect embodiment of historical experience and modern amenities at your disposal.
The suite ii
(oma-khang):
'Oma-Khang' ('Oma' meaning milk and 'khang' meaning house) was the dairy hub for the Royals. Commonly used prior to the invention of refrigerator, this space had access to cold wind, located at the coolest point in the Palace with small windows and hardly seeing any sun rays. The cold room was designed specifically and used by the royals to store away their day-to-day food items and dairy products such as labo (form of cottage cheese), churppi (form of ricotta), truhm-jho (curd), mar khak-lah (artisanal non-salted butter used for making butter tea) and other products. Renovated and re-designed in 2007-2008 for your convenience with luxurious, elegant yet simple and classic antique decors that once were part of Royal history. The cold room as I would term, is 'the soothing corner' of The Stok Palace, refreshing your mind, the chills one experiences once in a while awakens once inner-self.
The suite-iii
(bakk-khang):
Decade back this room was one of the most special and important room at Stok Palace for centuries. Abode to all the Buddhist mask in the palace called 'Bakk', (representing the faces of the wrathful protector deities who have a duty to save the faithful from harm). Used during Guru Tsechu festival at Stok for performing chams (mask–dance) centuries old masks were used to scare off evil emanations and influences that can distract a Buddhist from their deep prayer and meditation.
'Bakk-Khang' was re-designed and customized with personal touch of the HE Raja Jigmed Wangchuk Namgyal himself, the attention to detail in the design of the palace interior will provide you the convenience and comfort during your stay. This special room with a charming blend of classic decor from princely times and the latest conveniences, this ambience will make your stay memorable and grand.
The suite-iv
(nyair-khang):
The Stok Guru tsechu is the annual festival of oracles celebrated on the 9th and the 10th day of the 1st month of the Tibetan lunar calendar every year. It is celebrated with great pomp, presenting sacred dances and oracle appearances.
'Nyair-khang' has been the host for centuries to this annual festival. 'Nyair-pa' meaning _______ were a group formed by Stok village families who participate in organising the Guru-Tsechu festival. All the preparation took place in this room therefore titled 'Nyair –khang'.
Now renovated and re-designed with high-quality amenities, this room will make you feel part of spiritual history and will bring in lot of imagination -of pictures and sounds, of prayers and Chams (mask dance) performed by lamas.
The room offers seamless blend of traditional and modern sensibilities, ensures peace of mind while on holiday and a Ladakh's Royal Palace experience.